Featured Item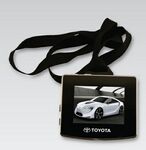 Media Player Lanyard
The video lanyard badge is an innovative way to attract attention to your trade show booth or seminars. The video show badge has sound and 2.4" screen. This item is a real trade show stopper! Up to 5 ...

Welcome!
Please call us today. We will help you put your logo to work!

(218) 625-2265 * (866) 505-2265
Welcome to Gizmoz Promotional Products! Put your logo to work.
New Product or Service Launches
Employee Recognition & Events
Corporate Recognition Programs
Sales Incentives
Trade Show Give-Aways
Safety Programs & Service Awards
Business Gifts
Thank You Programs
Clothing & Uniforms
... and much more!