Featured Item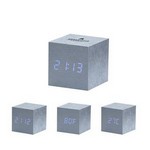 MoMA Alume Cube Clock
Designed by Natalie Sun, the Alume Cube Clock has a textured surface. Snap your fingers or tap the cube and the green LED display reveals the time, date and temperature and after a few seconds the dis...
$45.83 - $63.95
Welcome!
Please call us today. We will help you put your logo to work!

(218) 625-2265 * (866) 505-2265
Welcome to Gizmoz Promotional Products! Put your logo to work.
New Product or Service Launches
Employee Recognition & Events
Corporate Recognition Programs
Sales Incentives
Trade Show Give-Aways
Safety Programs & Service Awards
Business Gifts
Thank You Programs
Clothing & Uniforms
... and much more!
Signature Showrooms